80 Simcoe Street North | Oshawa, Ontario | 905-436-8999
Oblivion Song




The latest and greatest from Robert Kirkman, the prolific creator of The Walking Dead.
It's a dose of Science Fiction mixed with intrigue, personal drama and a
whole bunch of big nasty monsters.
"A decade ago, 300,000 citizens of Philadelphia were suddenly lost in Oblivion.
The government made every attempt to recover them, but after many years, they gave up.
Nathan Cole...won't. He makes daily trips, risking his life to try and rescue those still living in the
apocalyptic hellscape of Oblivion. But maybe...Nathan is looking for something else?
Why can't he resist the siren call of the Oblivion Song? "

The first issue debuts March 7th and will be an ongoing series.
Definitely for fans of Walking Dead, Outcast and of Robert Kirkman in general.
The artwork is supplied by the talented Lorenzo DeFelici and will not disappoint.
This book is the next big hit from Image Comics. Don't miss out.

Click the link here for a small preview courtesy of CBR.

Half way thru the series now and I find myself wondering,
"What else can Tom King and Mitch Gerads do to Scott Free?"

Their brilliant series MISTER MIRACLE has been an unrelenting halucinatory fun house ride of misery and suffering for
The World's Greatest Escape Artist. It truly seems as if he has found the one thing he can't escape, his life.
His life is crumbling. Everyone but his wife is either against him or using him.
The years of constant turmoil, stress, abuse and battle have left him utterly damaged.
He wants nothing more than to get out of a life that has spiralled completely out of his control.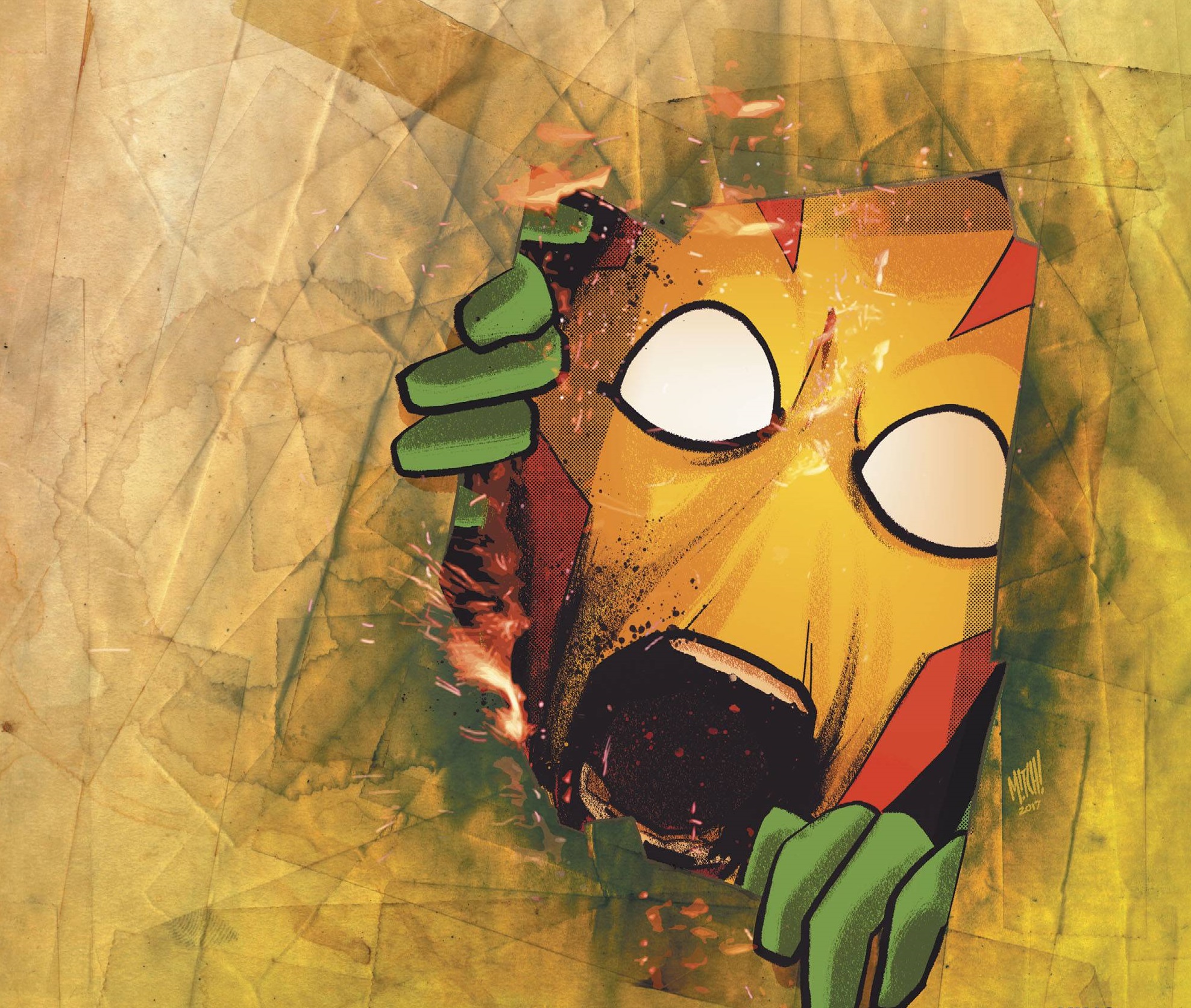 If you are either a fan of the work that Tom King has been doing: Vision, Batman, Sheriff of Babylon, or if you want to take a wader thru the traumatised mind of a beleagured super hero who may have lost touch with all reality, this is the book for you.
Featuring the gritty realism of Mitch Gerads' art. Stunning images that bring you inside pur hero's fractured psyche, rigidly structered as to create it's own inescapable trap and remarkable details that lend such weight to the world that Scott inhabits.
A world that is crushing him.

Issues 1 thru 6 are availble now!

To read more of Brian's thoughts on the series (which are by no means complete or resolved), CLICK HERE.



The New Year has arrived.

So what better time than now to recap and take a backward glance at the best 2017 had to offer.
There was an incredible crop of new series, original graphic novels and reprint collections.

To showcase this we've set up a Best Of... section on our main book case.
It features comics from:
Joelle Jones, Asaf Hanuka, Nate Powell, Farel Dalrymple, Jason Latour, Terry Moore,
Jeff Lemire,Margueritte Bennett, Emil Ferris and more...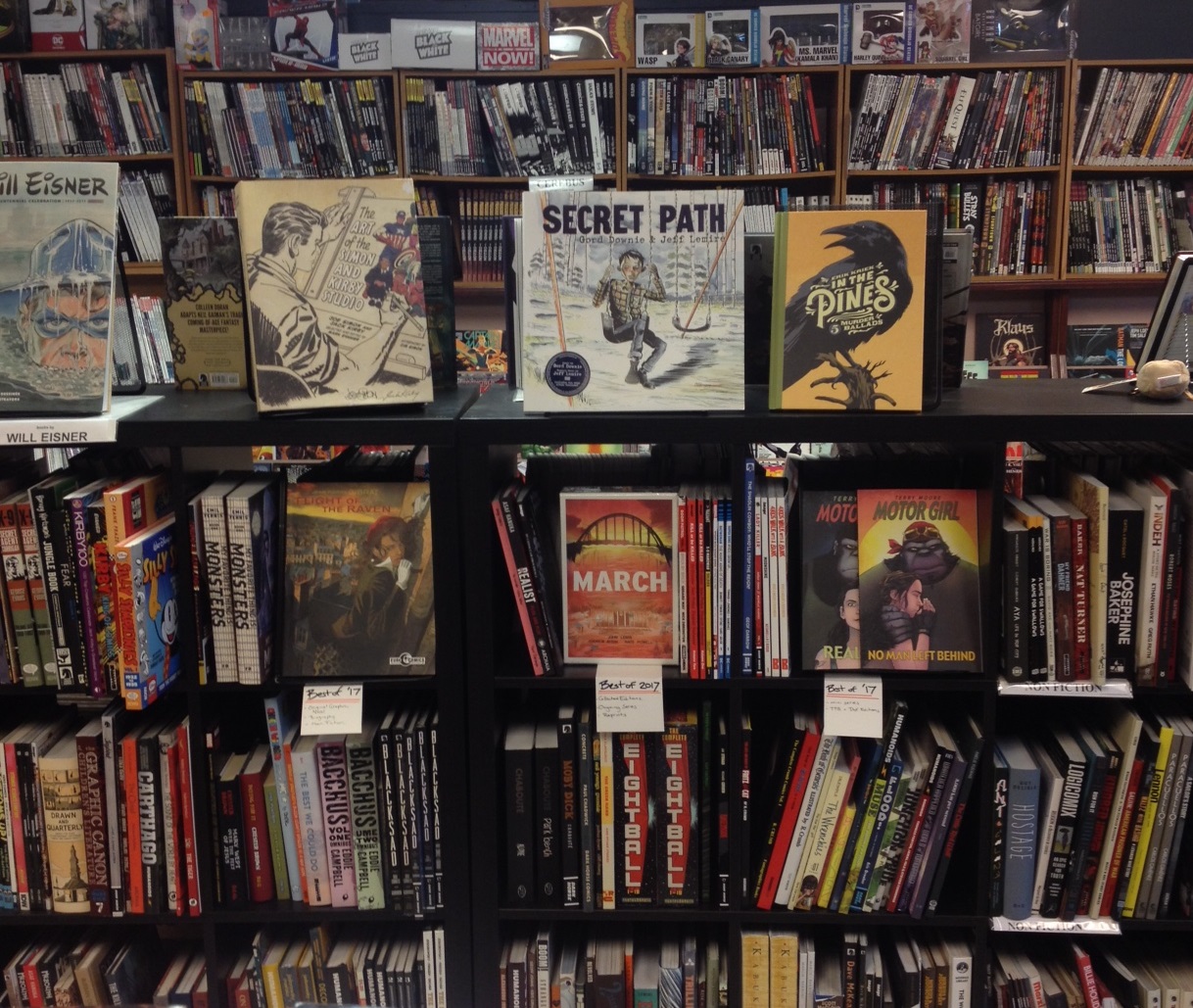 Take a look, we know you'll find something.

The shelves are also filled to overflowing with awesome books of every possible kind from traditional genre fictions,
history and memoirs, art books and how to instructional tomes.
Comics and grpahic novels from all over the world for your enjoyment.